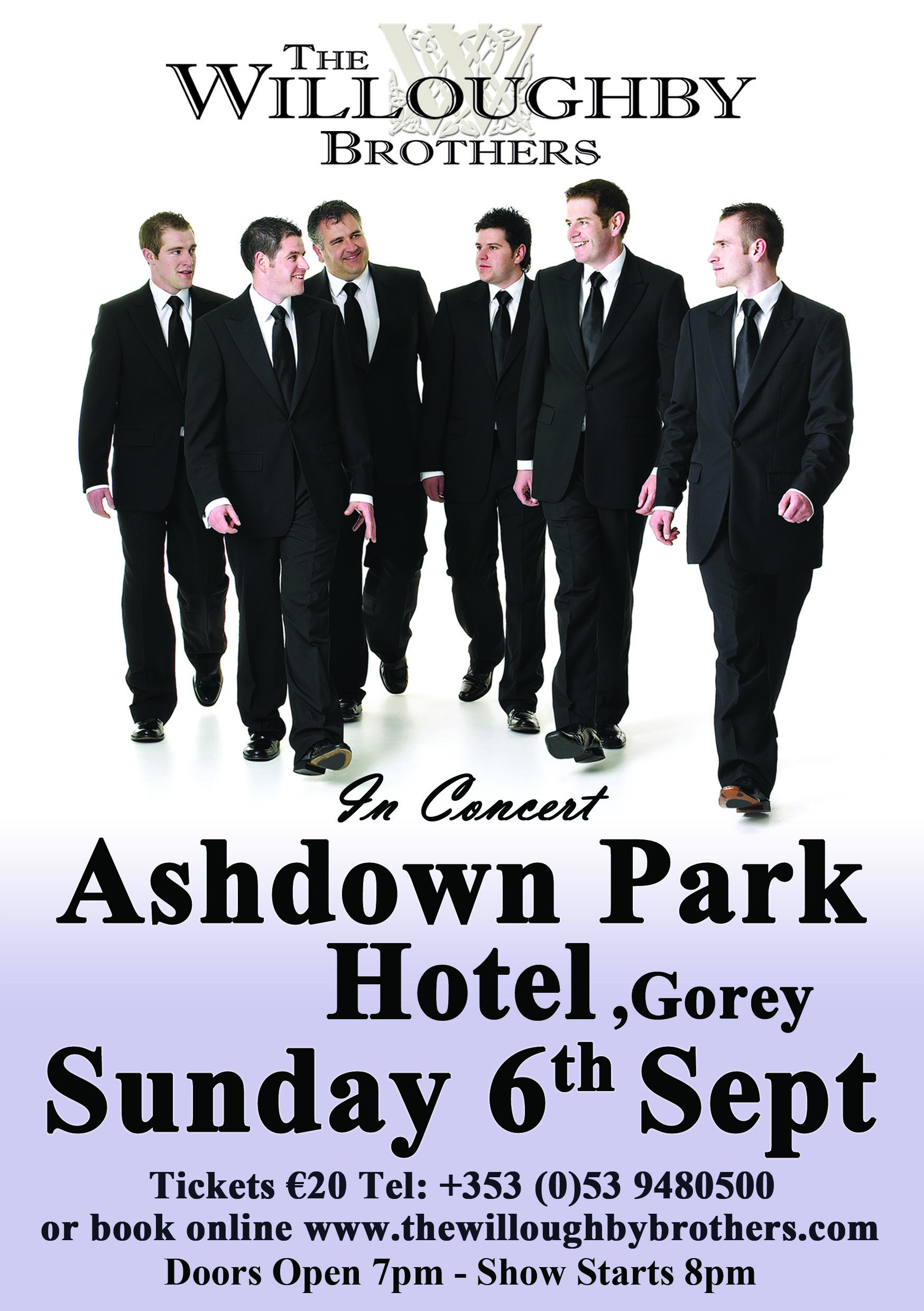 Richie, Des, Sammy, Robbie, Johnny and Jerome, hail from Coolboy, Co. Wicklow, six brothers with just over a decade between the eldest and youngest. Their passion for singing and performing, combined with a genuine closeness, stems from a childhood filled with music and singing, a love they carried with them through the years into adulthood. Credit must be given to their father Richard, and their late mother Breda, for nurturing and encouraging these gifts from an early age and introducing them to a world of music and entertainment. In the seventies and eighties their parents had their own popular country band 'The Moonsiders', performing at dances and shows across the country.
They are currently making a big impression on the national and international music scene with appearances on a number of TV and Radio shows including their recent live performance of the title song at the Rose of Tralee International Festival before a TV audience of 1.2 million. The have also made appearances on RTE'S 'Up For The Match 2011' the Derek Mooney Show and the John Murray Show on Radio 1. They have just concluded a number of very successful performances in the U.S. and the UK, and have further U.S tours planned for later this year.  In 2012 they had the honour of singing in Croke Park at the All-Ireland Hurling Final replay between Kilkenny and Galway. Recently they performed at the Symphony Hall, Birmingham and as guests of Daniel O' Donnell at his concert during the Donegal Shore Festival. They had the pleasure of serenading all thirty-two Rose of Tralee contestants at the opening ceremony of last year's festival, and performing at the GAA Ladies All-Star Awards and the National GAA Handball Awards.
Des, the second eldest is already prominent in the music industry as a successful Irish tenor. Having studied singing with the renowned Dr. Veronica Dunne, he has performed extensively throughout Ireland and in the United States, both as a soloist and with The Three Irish Tenors. Croke Park has also provided the stage for the highlight of his career to date having sung the National Anthem at a number of All-Ireland Finals.
Sadly, their mother Breda lost her battle against breast cancer in 1990 at the young age of 38, leaving the young family of boys relying on the strength of their father and the support of family and friends to get through an extremely difficult period. Richard undoubtedly proved his strength and the men that the boys became are testament to this fact.
Not only do the brothers share a love of singing, but they also have a passion for Gaelic games, handball in particular. They all impressively hold All-Ireland Handball medals while four of them, Richie, Johnny, Robbie and Sammy are World Handball Champions.
Their debut album 'The Promise' which includes their hit song 'Where The  Blarney Roses Grow' is currently available in stores nationwide, for download on itunes and from their website www.thewilloughbybrothers.com. Their current single 'Irish Heart' is receiving a lot of airplay on radio stations across the country.
The Willoughby Brothers create a very special sound with a repertoire featuring a blend of Irish ballads, popular classics and contemporary songs. These handsome and charming brothers have much to offer as a group.
This new act is fresh, talented and unique and offers something for everyone.